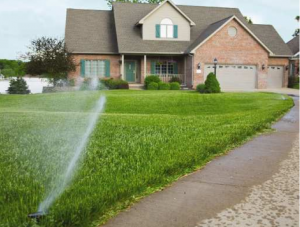 After a few months of blue skies and warm temperatures in Southern Maryland, summer revelers will soon bid adieu to the sultry days of this beloved season. Summer is often a season filled with vacations and recreation, but as the warm days dwindle and work and school commitments begin anew, there is additional work to be done in preparation for the months ahead throughout Calvert County, Charles County and St. Mary's County.
*Aerate your lawn. For improved drainage holes need to be poked throughout the lawn.  These holes allow water to pass freely into the root zone of your grass and plants.  Adam's Lawn and landscaping can help with part of your checklist.  Call today to schedule lawn services for the fall.
*Stock up on pool equipment. Homeowners who have pools can take advantage of end-of-season sales to purchase a few more gallons of pool chlorine or other pool equipment. Store them after you have winterized the pool, and you will be ahead of the game in terms of supplies for next year.
* Plan your garden harvest. If you have a backyard garden, pick your tomatoes and other vegetables before the weather starts to get chilly. Herbs can be washed and frozen in zipper-top baggies so they can be used when cooking over the next several months. Boil tomatoes for sauce and freeze or jar them. Begin to clear out residual stems and plant debris from the garden.
* Clean patios and furniture. Scrub and hose down outdoor furniture, cushions and living areas. Clean and dry items before storing them for the winter, so everything is ready to go when the warm weather returns next year.
* Purchase spring bulbs. Buy bulbs for spring-blooming flowers and map out where they will be planted for beautiful flowers next year. Wait until temperatures start to dip before planting the bulbs, otherwise they may begin to produce shoots prematurely, zapping the bulbs of energy.
* Check the heating system. Although turning on the heat may be the last thing you're thinking about, it's a good idea to test it and, if necessary, have the heating system serviced prior to the arrival of cold weather.
*Test your generator. Before the lights go out from winter storms, test and prepare your generator. Call a professional for any whole home generator needs. 
* Tend to the deck and other repairs. Make repairs to outdoor structures now, and they'll be more likely to survive the harsh weather that's just over the horizon. Apply stain or sealant to further protect wood structures in advance of snow and ice.
* Examine the roof and chimney. Winter is a poor time to learn you have missing roof shingles or a leak. Furthermore, ensure the chimney and venting to the outdoors is not obstructed by abandoned animal nests.
* Check your closets. Go through clothing and remove any items that are damaged or no longer fit, donating them if possible. Clean out kids' closets as well, as pants that fit perfectly in May will not necessarily fit come September.
* Stock the shed. Once the weather has cooled down, move outdoor flower pots, hoses and lawn ornaments you no longer need into the shed or garage while ensuring items needed in fall and winter, such as rakes, snow shovels and snowblowers, are more accessible.